Munoz Virgilio Coutellerie d'art
At the age of 20, in 1975, I obtained my CAP as a turner-miller. Subsequently, having always been passionate about art, I had the opportunity to join Angel Navarro's studio. For several years he was my teacher in order to share with me his knowledge and his know-how.
In 1982 I was lucky enough to be able to join the house of cutlers in Thiers, always with Angel Navarro. His precision and his know-how allowed him to obtain the title of Meilleur Ouvrier de France (MOF) in 1983. He was for me like a mentor.
This gave me the desire and the courage to register for the MOF competition in 1985. It was in 1986 that with enthusiasm I received the title of MOF. The following year in 1987 I created my workshop in Thiers. It was a great and rewarding experience for me in every way. I had the opportunity to let my inspiration run free. During these years I had the opportunity to make collector's knives as well as some sculptures.
In 1994 I was offered to join Forges de Laguiole as an art cutler, something that I accepted. During my 25 years at the forge I therefore made unique pieces at the customer's request.I had the opportunity to make art knives for presidents of the Republic (Mr Valéry Giscard d'Estaing, Mr François Mitterrand, Mr Jacques Chirac, Mr François Hollande as well as for Mr Emmanuel Macron).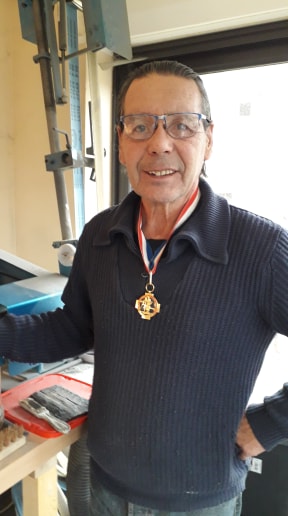 I also made art knives for various celebrities (Mr Eddy Mitchell, Mr Alain Delon and Mr Serge Blanco). In addition, I had the honor of making prototypes for great designers like Mr Starck and Mr Ora-ïto as well as for Sonia Rikiel. I also made orders for unique pieces for foreign politicians as well as for an Arab Emir.
In this year 2019 I retired. Unable to bring myself to stop my passion, I decided to create my workshop in order to give free rein to my inspiration.
OUR BLADES:
We offer blades made by hand, in stainless steel, carbon, stainless damask or carbon damask.
OUR SLEEVE MATERIALS:
For your knife we present ribs in noble materials such as mammoth ivory, giraffe bone, shagreen, etc. Or more common materials like horn, ebony, boxwood or any kind of leather, etc.
OUR FLIES AND SPRINGS:
All our flies and springs are unique. They are handmade according to your wishes.
PRECIOUS MATERIALS:
For more prestige and elegance, we provide you with diamonds, sapphires, rubies, coral, mother-of-pearl and many more.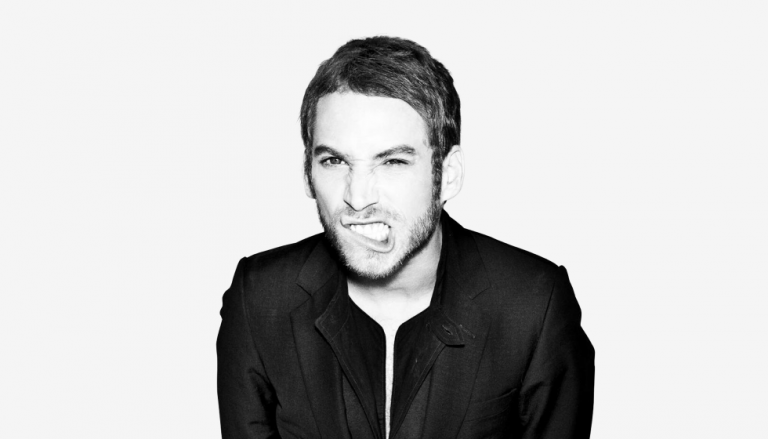 While the 29th edition of Coutellia begins this Saturday morning and for the whole weekend on the site of the Jo-Cognet room, in Thiers, we take a look back at some of the highlights that marked past editions.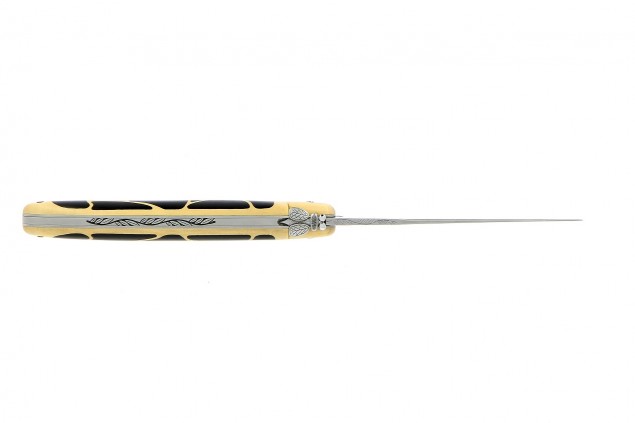 A formidable marquetry work with the signature of the Meilleur Ouvrier de France of the Forge de Laguiole, Virgilio Munoz Caballero. Expression of exceptional know-how, the handle presents an ebony inlay in a piece of light boxwood in the style of the French decorative arts. The decor is reminiscent of a giraffe's coat.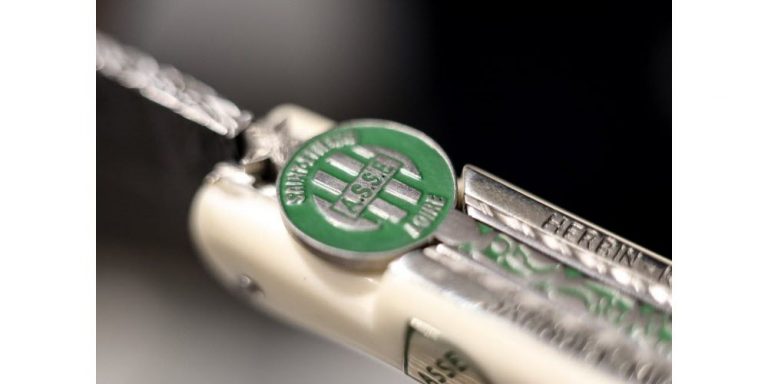 Laguiole "ASSE" made by Virgilio Munoz Caballero, Meilleur Ouvrier de France in cutlery.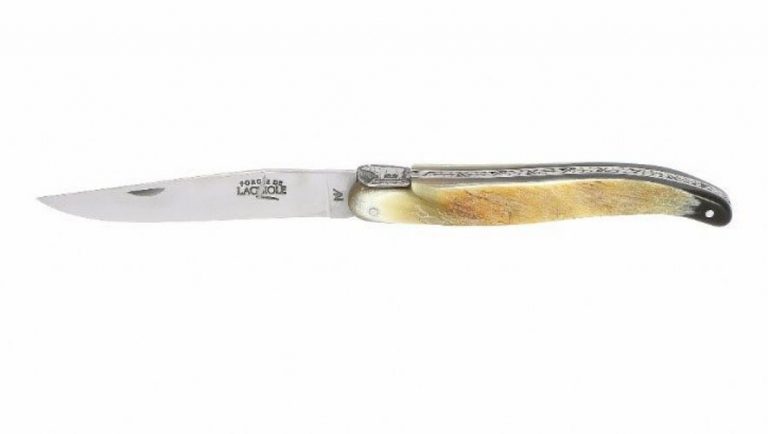 The most expensive knife will surely be the Munoz Full handle knife in Aubrac cow horn, Laguiole bull sculpted in place of the bee, hand guilloché spring. Knife made by Virgilio Munoz, Meilleur Ouvrier de France. Estimate: 800 to 1000 €
I recommend his creations because he always seeks perfection to serve his customers. And I've known him since 1982. Bravo to him for continuing to delight our eyes. Straightforwardness, competence and highly developed artistic sense.
Virgilio Munoz is quite simply one of the best French cutlery workers. Each of his knives is a unique, perfect work of art. An address of choice to afford an exceptional knife.
"Finally" originality in the cutlery tradition! I love! Your work really matches your talent! Synonymous with innovation in art. Where the craftsman is the artist!